What is a PASD portable fire source seaching detector?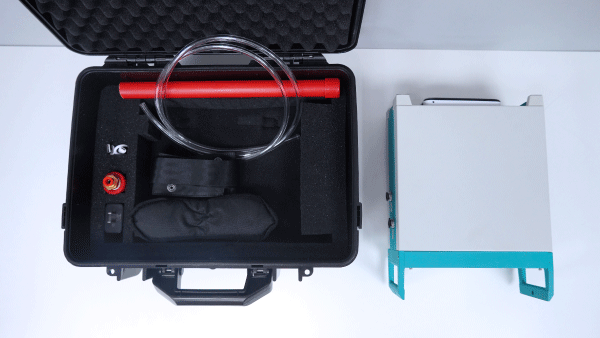 The PASD portable fire finder is designed to locate the source of a fire in its very early stage. Usually the alarm generated by an aspirating smoke detector can only tell you the area where a fire is occurring, but not able to pinpoint the location. Now PASD can help you find the source of the fire!
An aspirated very early smoke detection system can detect abnormal smoke changes in the early stages of a fire, when the smoke in the protective environment is still small. If there are high airflow in the space or the fire source is confined in the cabinet, it may not be easy to find the source of the fire when the personnel arrive at the scene, making it impossible to deal with the fire in a timely manner at the controllable stage of the fire and thus increasing the loss of the fire. The fire may even be considered a false alarm because the source of the fire cannot be found, so the alarm may be reset or isolated, causing irreparable damage as the fire grows larger.
PASD is a shoulder belt carry, portable fire finder and detector that replaces your eyes and nose to quickly locate the fire source. This portable fire detection device can be used in almost any environment, such as telecommunications, IDC, cloud computing, clean rooms, electrical rooms, warehouses, logistics centres, production workshops, shopping malls, hospitals and more.
How it work?
PASD is a portable aspirating smoke detector that uses the most advanced blue light detection technology and a built-in aspirator that actively draws in air from the surrounding environment for analysis and detection. It can easily detect small particles of smoke that are invisible to the human eyes. As it gets closer to the fire source, the detector smoke level will increase and the built-in buzzer will be triggered. It is especially effective in detecting fires in telecommunication equipment rooms, electrical cabinets, under floor and above ceiling voids, and can avoid electrical hazards, and is very simple to operate. 
The air sampling tube is inserted into the possible fire source during the search. The smoke level on the PASD display rises when approaching the fire or smoke source, and even triggers the alarm to sound the buzzer. On the contrary, the smoke level on the display decreases when it leaves the fire or smoke source.
The PASD-100 portable smoke detector is packaged in a light-weight, sealed plastic protective case that can be carried by hand or on a shoulder strap for easy transport and storage. The case is open to reveal the portable smoke detector, air sampling kit, shoulder strap and charger.
Order Infromation
PASD-100